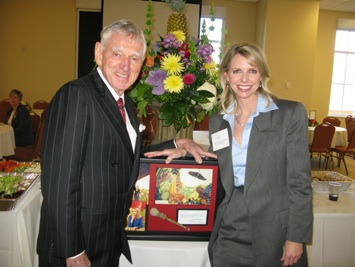 North Carolina Research Campus- "Superfoods Dome" Dedicated 2008
Dedication of the Core Laboratory Building and Dome -2010
David H. Murdock commissioned the largest painted dome in the southeast to crown the multi billion dollar building within the North Carolina Research Campus.
Martha Stewart climbed 100 feet to meet the artist and exclaimed "Brenda Councill is Michelle-angelo!"
"I selected Brenda Councill and her team after a world wide search. She exceeded my demanding expectations and visitors to my 80,000.sq ft. Core Laboratory building are immediately awestruck and I am very proud." – David H. Murdock, owner Dole Foods, Inc. Chairman of the Board, CEO, Castle and Cooke, Inc. – commenting on the largest painted dome in the southeast, Kannapolis, NC
The fruits and vegetables theme befits Murdock, who owns Dole Food Co. and whose campus is focusing on health and nutrition. Councill's "canvas" stretches 22 feet high, and the total painted surface covers 2,511 feet. She is working with Thibault Tosseram, an Atlanta artist originally from Paris.
Councill said her biggest challenge is pleasing Murdock, a hands-on presence overseeing the work he commissioned.
He didn't want pictures of sliced fruit. They needed to look like how people would buy them in the market. Murdock also insisted on fruits and vegetables that would be studied by campus scientists. And he approved the final design, which was by architect Arnold Savrann with Murdock's development company, Castle and Cooke.  Lynne Scott Safrit, the campus project manager, said Murdock wanted the mural to reflect his belief that fruits and vegetables can change people's lives.
Some of the representations on the mural include a pineapple 23 feet long and blueberries a foot tall, near an 11-foot head of lettuce.  The style is called hyperrealism, in which objects are rendered in a very lifelike, realistic fashion. The perspective had to be changed on some of the drawings, however, to account for the contours in the dome. It's an optical illusion that will be corrected in the mind's eye when people look at the mural, Councill said.
See on the Oprah Winfrey Show, 2009