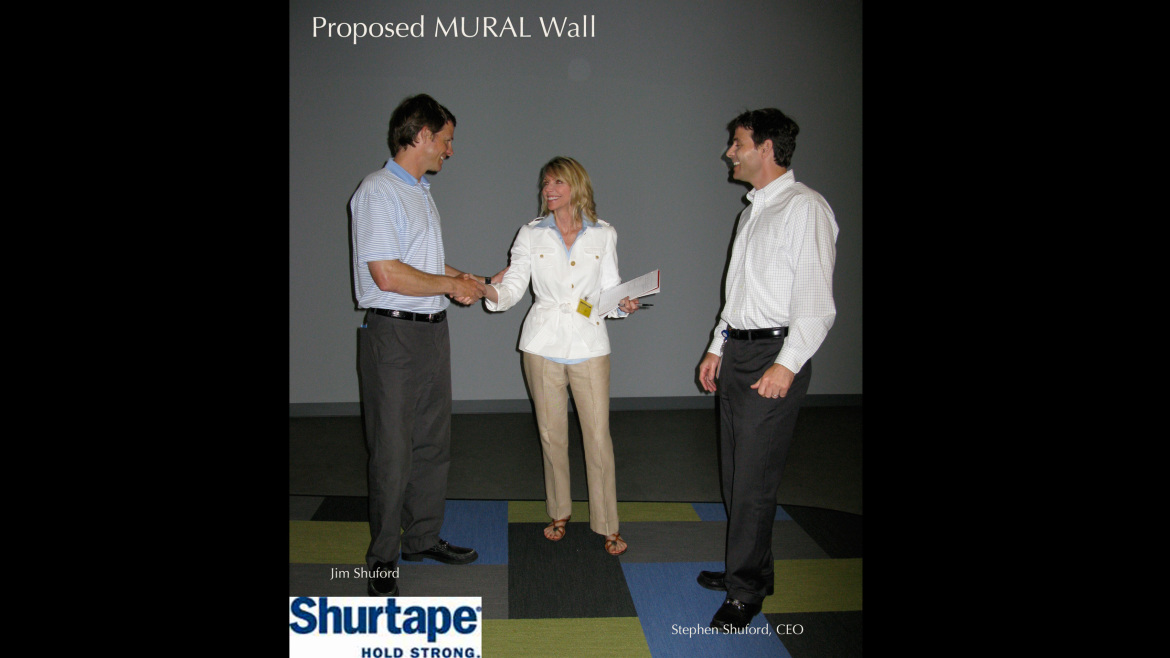 Sponsored by Shurtape Technologies, LLC. , The United Arts Council. and numerous donors.  The Hickory Museum of Art hosted internationally acclaimed North Carolina resident and artist, Brenda Mauney Councill, for several months while she paints and brings to life a large-scale mural
in the Coe Gallery of the Museum.  Visitors and will have the opportunity to witness the entire progression of Ms. Councill's unique and intimate idea blossom into a larger-than-life series of images on a canvas approximately twelve feet wide by twenty feet tall. Throughout the process, organized workshops, programs, tours, and casual conversations with the artist will introduce viewers to the fundamentals  and  challenges of painting large-scale murals; drawing and composition, perspective and vantage points, mixing of paint and selection of mural paint, translation of images from miniature to monumental.
"As a proud supporter of Brenda Councill, we are pleased that she will be using our FrogTape® and Shurtape® Blue Painter's tape to assist in the creation of her upcoming mural. We are honored that after its showcase at the Hickory Museum of Art, the mural's permanent home will be in our new corporate office." – Stephen Shuford, CEO Shurtape Technologies, LLC
Closing Event " A Mural in the Making "  United Arts Council, Hickory Museum and private sponsor Stephen Shuford, Ceo, Shurtape Technologies, LLC. and Artist Brenda Councill
Shurtape Mural: The site specific commission was originally completed as part of a grant from the United Arts Council within Museum walls. The mural was transported to the Global corporate offices of Shurtape Technologies and was completed on a single piece of prepared muslin and then cut out and polystyrene forms were added to increase the dimensional aspect of the piece.
"The Shurtape line of products inspired the variety of color, pattern and geometrics in this large scale mural. The visual of the actual linear application, (tape adhered to surface) and the circular shape of the tape rolls allowed for an abstract and vividly lively interpretation.  The base blocks of color imitate the trademark colors of the adhesive tapes I personally use in my work, namely Frogtape, and Shur-release Blue.  I chose to render in a highly dimensional framework so the mural would be "released" from the planar surface and engage the viewer.   The brand of Duck Tape is represented with varieties of the expanding retail product designs. The industrial brands are highlighted in neutral grays with light and shadow and "unencumbered" alluding to creative uses of this utilitarian product.  The open and infinite sky is symbolic of the continued research and development  allowing for an expanding and endless product line. " – Brenda Councill 2012