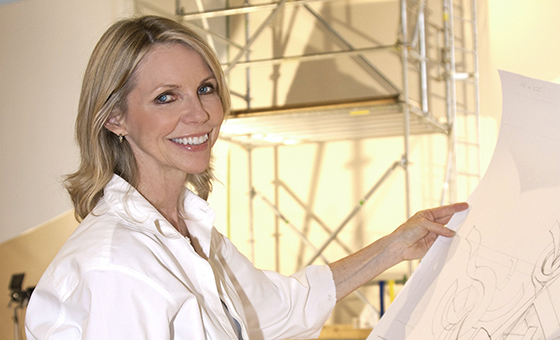 Internationally known artist, Brenda Mauney Councill currently specializes in large-scale murals, particularly domed ceilings, tackling projects that often put her high in the world of art. She recently completed The Largest Contemporary Painted Dome in the Southeast. Councill has been doing such large-scale projects for the past 15 years, the latest phase in her 35 year, award-winning career. Her projects span the globe and can extend for months with large-scale ceiling and wall murals in private homes and landmark buildings.
Martha Stewart visited the David H. Murdock Core Laboratory Building's ceiling dome and climbed the 100 feet of scaffolding to meet the artist, and exclaimed, "Councill is Michelle-angelo!". Ms. Councill's work recently appeared on the Oprah Winfrey show after the media titan visited North Carolina. Her popularity among collectors and the public's interest has been the focus of a PBS/UNC-TV segment on the artist. FOX, CBS and NBC affiliates have all run footage on Councill's painted ceilings and other public work projects.
Educational projects awarded to Councill include massive murals, "The Quest for Knowledge" in the new Belk Library on the campus of Appalachian State University in North Carolina. Her newest monumental ceiling mural commission, on campus, includes bas-relief embossed copper elements combined with trompe l'oeil crowning the grand foyer of the College of Education Building. Another signature ceiling mural on the subject of Biology, "The Spiral of Life" can be seen in the Belk Atrium of Presbyterian College in South Carolina. Hickory Museum of Art featured a retrospective of her monumental murals in 2012. She was selected and awarded the commission to paint a symbolic wall by the prestigious International Institute of Technology in Bombay, India.
Brenda grew up in Jacksonville, Florida and her career was launched in 1963 at the age of 7 with her debut exhibition of paintings at the Jacksonville Museum of Arts and Sciences. Her first televised interview attracted regional attention and yielded important commissions, which led the 11-year-old artist to design and supervise the installation of her first outdoor sculpture. This early recognition of her talent motivated the creation of design projects that attracted the national media attention including an appearance on NBC's Today Show.
In 1987, she opened a second studio in New York and began an impressive list of solo and group exhibitions that previewed her signature work of paintings and mixed metal constructions. The famed Circle Gallery hosted a major venue that gained widespread acclaim from such sponsors as The Smithsonian Institution, The Susan and Stephen Geller Foundation, The Advertising Club of New York Foundation and The National Arts Club. Corporate collections include DuPont, AT&T, Credit Suisse, British Airways, Jones Apparel Group, The Canadian Imperial Bank, Suntrust and 1st United Bank, Gate Petroleum, Shurtape Technologies, LLC. and many more. Private collectors in include Roberta Von Schlossberg, Sidney Kimmel, David H. Murdock, Llywd Ecclestone, Greek shipping magnate Stavros Niarchos, Carol and Irwin Belk, and Hollywood accolades from the late Greta Garbo, Michael Douglas, Samuel L. Jackson, Connie Stevens, and Martha Stewart. Her work is specified by a select group architects and designers nationally. Councill's first drawings and prints from the 1970's are still collected today.