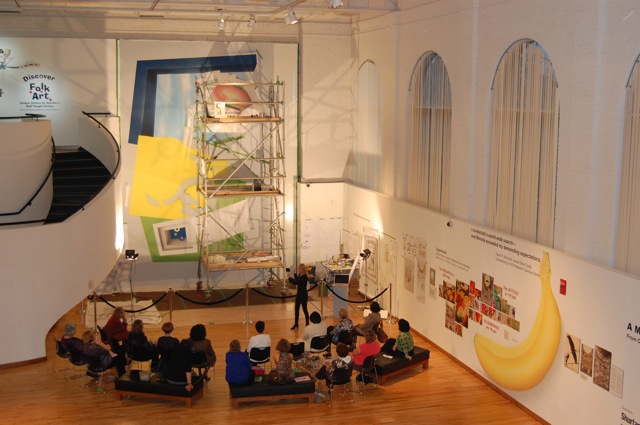 Wit and Wisdom Gallery Talk- Sponsored by The Hickory Museum of Art
The evening opens with refreshments and time of networking/socializing. Then enjoy a program by muralist Brenda Councill, who will discuss her current exhibition, A Mural in the Making, and being a woman artist. Presented by the Women's Resource Center.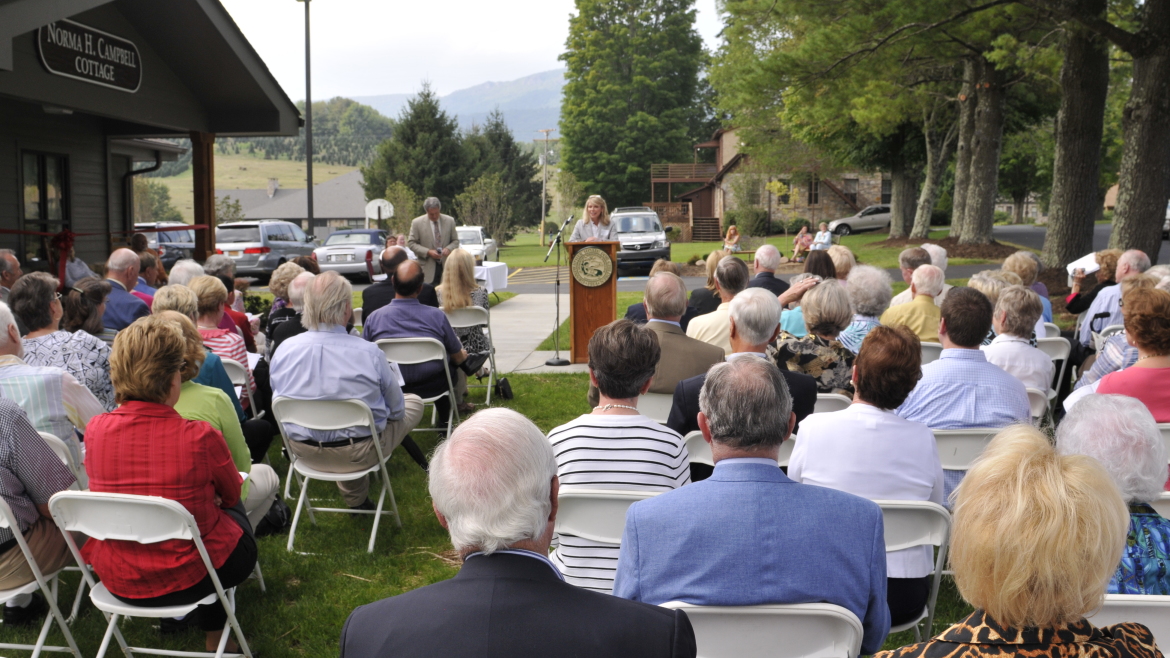 Campbell Cottage Murals: "Images that Inspire"
Scripture: Philippians 4:8 "Finally brothers and sisters, whatever is true, whatever is noble, whatever is right, whatever is pure, whatever is lovely, whatever is admirable – if anything is excellent or praiseworthy – think about such things." (NIV)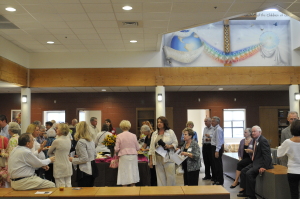 Campbell Cottage is our secure facility housing the children who are dealing with the most severe behavioral consequences of the abuse they have suffered. The children are in the cottage or its attached secured outside recreation area 24/7. A donors, Norma Suddreth, commissioned nationally recognized mural artist Brenda Councill to do two murals in each of the two side dormers in the main room of Campbell Cottage. The beautiful murals are intended "to generate spiritual thought and inspire hope, redemption and healing for children and young adults." The artist looks at her creations a visual "parables" that tell a story of faith in visual symbols and a few key biblical verses or words of historical value to the Christian faith. The murals were created on flat canvas attached to the wall and the three-dimensional look was created by a technique called trompe l'oeil (fool the eye). Several devotionals will focus on the meaning of the symbols in these paintings.
The murals succeeded in their intent. The children who have lived in the cottage have indeed found them inspirational, thought provoking, encouraging, and calming in times of stress. The images were powerful and meaningful enough to residents at the Cottage in 2011 that the kids asked Norma, who also comes periodically to do special art projects with the kids, if she could invite the artist to come and talk to them about what she had created. Brenda Councill kindly accepted the invitation and spent 90 minutes talking to the kids about the murals in Campbell as well as sharing photos of some of her other work. The gift of these beautiful images has provided a nurturing and healing visual setting for these children to heal.
Many times, in our own homes we surround ourselves with images of what is important to us. Photographs of our family members who live far away or who have died bring back happy memories. Photos or paintings of places we have been remind us of past blessings. Things we find beautiful refresh the spirit. Images of nature remind us of the beauty of God's creation. The symbols around us in our churches [in windows, or paintings, or banners] remind us of aspects of our faith and help us to focus on and feel closer to God. Surrounding ourselves with these things helps us to think about some of those "good things" that Paul is talking about in today's scripture.
Prayer: Dear Lord, we thank you for the gift of art that enriches our lives and nurtures our spirits. Help us, through this gift, to think about you and bring us into a closer relationship with you. Amen.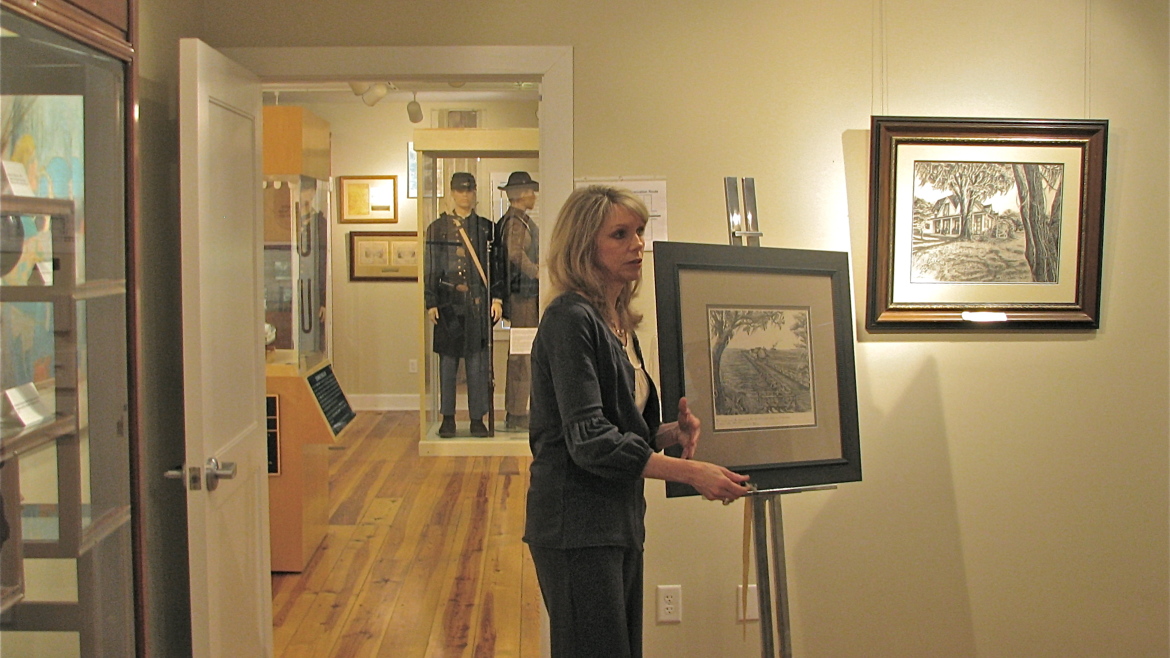 Brenda Councill grew up in jacksonville, Florida and has donated many of her early drawings to the permanent collection of the Mandarin Museum and the City of Jacksonville. She has been active in the Historical Society for more than 30 years and her drawings, paintings and prints capture the legacy of Harriet Beecher Stowe and the early settlers to Mandarin, Florida.
For more information: http://www.mandarinmuseum.net/
After climbing 100 feet of scaffolding, I proclaimed Ms. Councill as "Michelle-angelo!" Stunning and vibrant work! (commenting on the Super foods Dome Mural Kannapolis, NC)

Martha Stewart - Chairwoman, Martha Stewart Omnimedia, Inc.
This is a magnificent mural. The faculty and students look up to find the beginning of life, the fusion of a tumultuous primordial sky, sun radiating its life-giving rays evoking the elemental forces of nature and the evolution of the plant and animal kingdoms. It is more than we could have anticipated. (commenting on The Spiral of Life Ceiling Mural, Belk Atrium)

Dr. John Griffith - President (ret.), Presbyterian College, Clinton, SC
Carol Grotnes Belk Library and Information Commons is a point of great pride on this campus and across Western North Carolina. The series of murals being painted by Brenda Councill will distinguish this facility even more. It is truly special to have an artist who has such deep roots in the region bring her talents to this project. Her work will be enjoyed by those who visit the library for years to come.

Dr. Kenneth E. Peacock - Chancellor (ret.), Appalachian State University
I have awarded Brenda Councill several important commissions that will inspire on a grand scale. Visitors to these Great Halls of Learning and Higher Education will enjoy her work for many generations to come! (commenting on the Appalachian State University Library Mural)

Irwin Belk - Philanthropist
As a proud supporter of Brenda Councill, we are pleased that she will be using our FrogTape® and Shurtape® Blue Painter's tape to assist in the creation of her upcoming mural. We are honored that after its showcase at the Hickory Museum of Art, the mural's permanent home will be in our new corporate office.

Stephen Shuford - CEO, Shurtape Technologies, LLC
I selected Brenda Councill and her team after a world wide search. She exceeded my demanding expectations and visitors to my 80,000 sq. ft. Core Laboratory building are immediately awestruck and I am very proud.

David H Murdock - CEO, Dole Foods, Inc & Castle Cooke, Inc